It may seem an unlikely combination but my most recent small project combined 3D printing (via fused filament fabrication on a Solidoodle), some hand-worked mahogany wood, an NFC tag, and a paper product. A few years ago, my boss (the CEO of the company I work for) created a small notepaper product called an "Idea Catcher." It is a heavyweight piece of cardstock, about twice the size of a business card, with your monogram in the corner. He provided me with a stack of them and I wasn't really sure how to carry them with me. I endeavored to make some sort of carrying case. The utility of a box of paper wasn't there for me, so I decided to add NFC to the mix as well as a means of sharing my personal information. My initial design looked like an oversized business card case.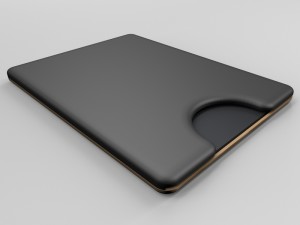 I intended to bring some warmth to the design via a hardwood cover. I wanted to use cloth elastic to adjust the thickness of the holder to the number of cards contained within it.  After the first few iterations, it became clear that such a design would not work well. The tooth of the paper was too great and it made removing the "catchers" too difficult. I knew that if I were going to use the things, they would need to be easy to access. So, I adjusted the design to have a fixed size and a flip-top.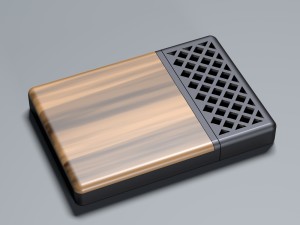 I began by prototyping the cover and container in plastic. Once I had a basic shape, I cut a piece of craft mahogany to size and began to carve away the joinery. When I had the basic shape down, I stained it, then sanded away the surface stain to create greater contrast in the grain.
Once shaping was complete, I glued up the cover to the body of the holder (FFF printed in black). I added a small steel bar (piano wire) to act as a pin for a hinge to come later.  I coated the mahogany in poly as well with a few sets of coating and sanding.
Next, I printed the flip top cover, printed a hinge cover, and hand rolled a small brass sheet to create the hinges. The NFC tag I embedded in the hinge cover, so it cannot be seen from any perspective.
The finished product opens and closes nicely, providing easy access to a stack of the Idea Catchers, and carries my professional information on it. It's essentially a business card with the utility of a notepad.